Donation Details
Thank you for considering contributing to this work financially


We appreciate your honoring the substantial effort it takes to create this workshop. This includes the training, organizational & marketing time, the facility provided, set-up and clean-up effort, care of the "fluff" and the professionalism needed to make Cuddle Party a safe, fun, sometimes challenging but, overall, an enjoyable experience.
Cancellations and refunds


We hold these events primarily in Santa Clara in the heart of Silicon Valley. Due to the gender ratio of males to females here in the valley, we gender-balance these events, which makes cancellations a big problem. Therefore, if you cancel your reservation seven (7) days prior to the event, we will offer a full refund. After this point, we will no longer offer refunds. We hope you can understand the need for this change.
Healthy Boundaries and The Requested Donation
While being a Cuddle Party facilitator enhances our lives, deeply, in a variety of ways -- we simply could not do this work without financial support from the particpants. That would not be financially responsible for us, nor would it demonstrate our understanding of healthy boundaries. Therefore, the requested donation is normally $40/person. However, we do not want to turn people away, so please see the Service Role Opportunity section below.
The Lovely Ladies
It is often the case, that we have more men interested, in a particular party, than women (even though women claim to love cuddling !!). Therefore, we may be willing to offer women a discount on the requested donation. Ladies, if the donation request is preventing you from being an enthusiastic 'YES' to attending, please see the Service Opportunities section below. If that still doesn't do it for you, please call us (408.461.9006) -- we'll talk.
Different donation request based on gender


Sometimes we ask male attendees for a larger donation than female attendees.

There are many reasons, but primarily:
1) We gender-balance these events
2) Men register for these events 3:1 more than women
3) Women often ask for a discount

So, one aspect is simple supply and demand. Another relates to some conclusions that I have drawn after offering these events for over a decade. There is the issue of the culture we live in, and maybe even biology.

In the US, men make more money than women. This is especially true in Silicon Valley. For some reason, men are employed more often than women, in jobs that are more lucrative. Added to the economic disparity, women have suffered from assault, including sexual assault and sexual harassment in the workplace and outside of it. So, it is understandable that they are less likely to attend these type events. So, I don't want money to be yet another impediment. And, I want men WHO CAN, to help me finance these events, for the brave women choose to take a risk.

If the requested donation is an impediment for you -- I would be happy to negotiate. I do not want the requested donation to be an impediment for you either. So please contact me at

.
We really want everyone to experience this
The exquisite beauty of the acceptance that we have experienced at Cuddle Party, was more than incredibly moving for us, it was life changing. We want to share this possiblity with everyone. So, if you are feeling scared or skeptical, please do go ahead and register for a party. Then email us

or call (408) 461-9006 and let us know your concerns. We will invite you to come to your first party without a request for a donation. Upon leaving the party, if you do not feel moved to contribute towards this work -- then we will be happy with your choice and fully support you with your decision.
Service Role Opportunities
There may be an opportunity to play a service role, at an event, instead of the request for a donation or request for a partial donation discount. The discount for work/trade is: a $10 discount for one (1) hour of work. Service roles are limited and are offered on a first come-first serve basis. After you receive your CONFIRMATION EMAIL, please contact your facilitator to inquire about playing a service role. If you have both requested and been offered a specific service role for a particular event then you are considered being "on team" for that particular event. Being on Team Cuddle does not, in and of itself, mean that attendance is discounted.

If you cannot play a service role, and you cannot afford a donation, please contact your facilitator or host, at the email address in your CONFIRMATION EMAIL -- or simply call 408.461.9006. We do not want to turn people away for lack of funds.
The Playful Circle Community
Please note that donations to events hosted by The Playful Circle are to The Playful Circle community and not the Cuddle Party Organization.
Please call: 408.461.9006
Please email:


Burdened with too much cash?
-- Donate to our mission!

What does a CP look like?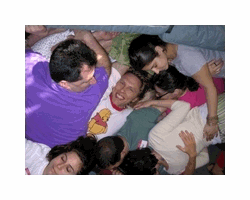 Join our e-mail list
| | |
| --- | --- |
| | See Also |
| | |
| | |
| | |
| --- | --- |
| | Site Navigation |
| | |
| | |
| | |
| | |
| | |
| | |
| | |
| | |
| | |
| --- | --- |
| | Admin Navigation |
| | |
| | |