About Cuddle Party
— South Bay & Santa Cruz
Inspired by the belief that a joy shared is a joy multiplied, and an effort shared is an effort lightened -- we join together to support and inspire the 'cuddle communities' of the South Bay and Santa Cruz.

We hope to offer at least once a month events, and develop thriving, self-sufficient, self-inspired communities. We want to teach and create a culture of authenticity, easy boundary assertion, and respect. We also just want to play and have fun!!!

Cuddle-monials!!
Testimonials from some of our attendees...
From 1/31/2016 Cuddle Party
"....[Y]ou don't realize how much calmer and relaxed I've felt since attending these parties. They have helped me to live more in the moment, not allowing my stress to steal my joy!"

Mary T.
Redwood City, CA
From 5/25/2014 Cuddle Party
"Hi Yvonne & cuddly people,
Thank-you for the lovely cuddling. Your home is beautiful, I admire your lovely space! I was glad to make some new friends and experience gentle touch. Also glad to help Dan break out of his "shell" a bit more, in a gentle but open space. Grateful for your providing a safe container for teaching people how to explore gentle and nurturing touch.

Please let me know if you're hosting another party!"

Kind regards,
++Erika K.
Berkeley, CA
+++++++++++++++++++++++++++++++++++++++++++++++
"For as long as I have been attending Cuddle Party, I have met and connected with so many people, made friends and build relationships around them. It's all about human connection, touch, nurture, as well as giving and receiving and that energy is felt from the start. The Cuddle Parties just get better every time, and once it's over, I feel like a completly different person, than when I first arrived at the door."

Billy A.
Daly City, CA
+++++++++++++++++++++++++++++++++++++++++++++++
"I had heard about Cuddle Party for a while from my friends, but last week was my first experience. Yvonne spent time explaining the rules and boundaries, which helped me feel safer and more comfortable. Once we got started, it was fun. We practiced asking if this was ok and that was ok. Getting permission and feedback helped me feel safer. I met some really wonderful people. I would love to do that again."

Randy W.
El Cerrito, CA

Burdened with too much cash?
-- Donate to our mission!

What does a CP look like?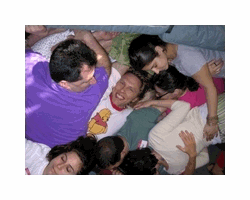 Join our e-mail list
| | |
| --- | --- |
| | See Also |
| | |
| | |
| | |
| --- | --- |
| | Site Navigation |
| | |
| | |
| | |
| | |
| | |
| | |
| | |
| | |
| | |
| --- | --- |
| | Admin Navigation |
| | |
| | |