Cuddle Calendar
Events by City
Santa Clara
April Cuddle Party in Santa Clara

Sunday, April 30, 2017
1:30-5:30 PM

Party Type

Co-ed

Led by

Yvonne Shevnin

Cost

$40 per person / $60 per couple / $10 Students

(see donation details)

Register

Click here to register

Notes

**** April Cuddle Party in Santa Clara **** The March Cuddle Party was so much fun, we had to do it again!! We will do the log roll game again. Then a puppy pile. Can't wait to hang with you guys!!

Burdened with too much cash?
-- Donate to our mission!

What does a CP look like?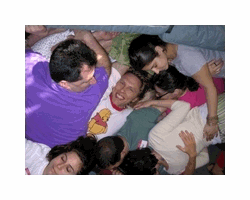 Join our e-mail list
| | |
| --- | --- |
| | See Also |
| | |
| | |
| | |
| --- | --- |
| | Site Navigation |
| | |
| | |
| | |
| | |
| | |
| | |
| | |
| | |
| | |
| --- | --- |
| | Admin Navigation |
| | |
| | |