What is a Cuddle Party?
A Cuddle Party is: A structured, safe workshop on boundaries, communication, intimacy and affection. A drug and alcohol-free way to meet fascinating people in a relaxing environment. A laboratory where you can experiment with what makes you feel safe and feel good.

This playful, fun workshop has been a place for people to rediscover non-sexual touch and affection, a space to reframe assumptions about men and women, and a great networking event to meet new friends, roommates, business partners and significant others.

Can Cuddle Party restore your faith in humanity? It just might. But at the very least, you'll have a great time, and leave feeling relaxed and inspired.
Upcoming Parties / Events
We are very sorry.
We currently have no available Cuddle Party events.
Check back here soon though!

The Calendar lists all of our upcoming Cuddle Parties, workshops, talks and presentations. In addition to the events listed here, SueLynn and Yvonne are available to speak at conferences and for groups. If you would like to find out more about these services, or would like to inquire about bringing us to your town, contact us.

You must RSVP and receive a confirmation to attend a Cuddle Party event. To RSVP, click on the 'RSVP for this Party' link or follow the link to the party-specific website to RSVP. Spaces fill up fast, so reserve early!

The donation request for attendence varies depending on facilitator and location. Check your confirmation email for Cuddle Party location and directions. To receive invitations to Cuddle Party events, sign-up using the 'Join our e-mail list' form on the right in the yellow box.

The Cuddle Party Calendar is continually updated with new events, so please check back often to see what we've got for you! You can bookmark this page here.

The donation request varies by event. Check with the Cuddle Party facilitator hosting your party for costs and other instructions.

Burdened with too much cash?
-- Donate to our mission!

What does a CP look like?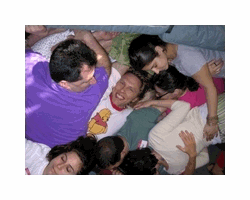 Join our e-mail list
| | |
| --- | --- |
| | See Also |
| | |
| | |
| | |
| --- | --- |
| | Site Navigation |
| | |
| | |
| | |
| | |
| | |
| | |
| | |
| | |
| | |
| --- | --- |
| | Admin Navigation |
| | |
| | |