Cuddle Calendar
Events by City
Santa Clara
October Cuddle Party

Saturday, October 7, 2017
2:30-6:30 PM

Party Type

Co-ed

Led by

Yvonne Shevnin

Cost

$40/person or $30/person - if bringing someone NEW

(see donation details)

Register

Click here to register

Notes

This October, we will gather to practice being authentic, to encourage each other to be our true ourselves, and to learn how to accept the reality of the moment, as gracefully as we can. We will be bringing food for a potluck. If it is a warm day...we will air-condition the cuddle space. I hope you will join us!!

Burdened with too much cash?
-- Donate to our mission!

What does a CP look like?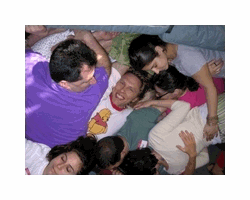 Join our e-mail list
| | |
| --- | --- |
| | See Also |
| | |
| | |
| | |
| --- | --- |
| | Site Navigation |
| | |
| | |
| | |
| | |
| | |
| | |
| | |
| | |
| | |
| --- | --- |
| | Admin Navigation |
| | |
| | |